America's First Space Success
September 3, 2010 | In: Space Facts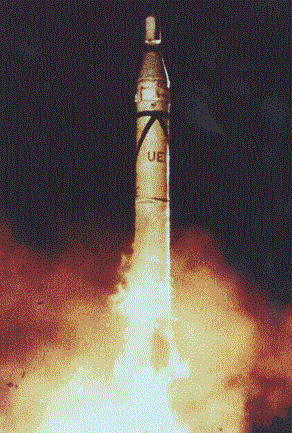 The Russians had launched the world's first orbiting satellite, Sputnik. America's Vanguard program tried to launch its own space probe, but had met with some embarrassing delays. The US government was anxious to get something into space.
Finally, the Army Ballistic Missile Agency at Redstone Arsenal, in Huntsville, Alabama, and the Jet Propulsion Laboratory in Pasadena, California, were told to get something flying.
And just 84 days later, on Jan. 31, 1958, they did it. The United States successfully launched Explorer 1, its first satellite.
Explorer 1 was 2 meters (80 inches) long and 15 centimeters (6 inches) around. It carried 5 kilograms (11 pounds) of instruments, batteries and radios. The instrument package was developed by scientists, engineers and students at the State University of Iowa under direction of James Van Allen.
Explorer 1 sent back some curious Geiger counter readings. They showed strong radiation, similar to that of radioactive rocks. This was the discovery of a radiation field surrounding the Earth that would be called the Van Allen Belt. Energetic electrons from the Sun are trapped and concentrated in the Earth's magnetic field.
The space race now had real competition.
Link to this page
If you found this article interesting, please help me promote it. To link to this page, copy this HTML and paste it onto your Web page.