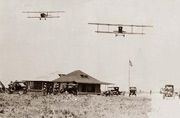 World War 1 or the First World War, 1914 – 1918, was the first war that involved nations spanning more than half the globe.
The war was fought by the Allies on one side, and the Central Powers on the other.
The assassination of Archduke Franz Ferdinand in Sarajevo. He was the heir to the Austrian throne and was murdered by Serbian nationalist Gavrilo Princip. This was the spark that caused war to be declared.
The World War 1 was commonly called "The Great War" or sometimes "the war to end wars" until World War II started .
More than 70 million military personnel were mobilized in World War 1.
First known use of chemical weapons (mustard Gas) was in World War 1.
There were 70,000,000 men and women in uniform of that number one-half were either killed, wounded or became prisoners of war.
More than 9 million d*ed on the battlefield, and nearly that many more on the home fronts because of food shortages, g*nocide, and ground combat.
Link to this page
If you found this article interesting, please help me promote it. To link to this page, copy this HTML and paste it onto your Web page.