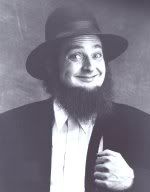 Lancaster County is home to the Pennsylvania Dutch, a mix of "church people," such as Lutherans and Moravians, and "plain people," such as the Amish and Mennonites, many of whom refuse to blend with or adopt the conveniences of modern society.
The Pennsylvania Dutch are really Germans. "Deutsch" is German for "German" and in America the word was shortened to Dutch.
Due to their religious beliefs, the Amish live lives of hard labor, while many of their contemporaries sit all day in air-conditioned offices. They believe that living plain lives brings them closer to God. They are called Amish after the Swiss religious leader Jakob Ammann, who brought his people here in the 1720s.
The Amish till their fields by hand and mule, churn butter by hand, and use their bodies in ways most of us never do. As a result, their diet is heavy and full of starches, that supply them with the energy needed to fuel their lives.
Mounds of mashed potatoes and gravy, large slabs of meat and gravy, and huge slices of bread slathered with butter, form the basis of their cuisine. These meals are accompanied by a myriad of jams, spiced fruits, and pickled vegetables. In addition there are pies, which display the baking skills of the Pennsylvania Dutch women.
One unique Pennsylvania Dutch pie is shoo-fly pie, a molasses sponge cake that is baked in a crust. There is also a lemon and raisin pie that is baked when someone dies and thus is called a "funeral pie." "Preaching" pies are half-moon in shape and made for restless children at long Sunday services.
Link to this page
If you found this article interesting, please help me promote it. To link to this page, copy this HTML and paste it onto your Web page.