interesting avocado facts
October 23, 2009 | In: Food facts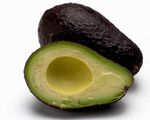 The avocado is also called an Alligator Pear because of its pear-like shape and green skin.
There are about 7,000 avocado groves in California; the average size is around 10 acres.
The Aztec word for avocado was ahuacatl, which means "testicle tree".
One tree can produce between 150 and 500 avocados per year.
The avocado is widely considered a vegetable, since it is commonly used in salads.
Avocados are a great source for omega- 3 fatty acids, antioxidants, Vitamin E, Vitamin K and fiber.
The fruit ripens only after it is plucked out from the tree.
Avocados can weigh from 1 ounce to up to 4 pounds each.
The most common avocado types are: Bacon, Fuerte, Gwen, Hass, Pinkerton, Reed, and Zutano.
The fruit is rich in oleic acid, a monounsaturated fat that helps in bringing down the cholesterol level.
Avocado is considered a complete food, with vitamins, minerals, antioxidants, calories and fiber with no cholesterol and no sodium.
Link to this page
If you found this article interesting, please help me promote it. To link to this page, copy this HTML and paste it onto your Web page.