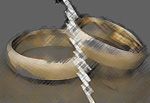 Couples who live together prior to marriage experience greater dissatisfaction afterwards .
A Saudi Arabian woman can get a divorce if her husband doesn't give her coffee.
In Ireland, divorce was prohibited until 1997.
Michael Douglas had to give up around $45 million to his first wife Diandra.
The United States has one of the highest divorce rates in the world with more than 1 million divorces occurring annually.
When the divorce rate goes up in the United States, toy makers report that the sale of toys also rise.
The countries with the lowest rate of divorces, per thousand are (in ascending order): – The Vatican 0.0 – Guatemala 0.15 and Macedonia 2.7 .
Link to this page
If you found this article interesting, please help me promote it. To link to this page, copy this HTML and paste it onto your Web page.