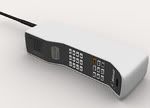 Did you know that a cell-phone is actually a complicated radio? Some interesting facts about a cell phone is that areas are divided into small cells, with a cell phone tower at the center of each cell. The difference beween a walkie talkie and a cell phone is that walkie talkies can communicate as far as 1000 ft. and cell phones can transmit several miles away from the cell tower.
The first truly mobile phone (one that didn't require its own case for transportation) went on sale in 1985.
Cell phones (telefone celular) came into existence because of the invention of hexagonal cells in 1947, for the base stations by Bell Labs engineers at AT&T.
Up to 60% of the radiation emitted by a typical cell phone, (enough to cause heating), will be absorbed by the user's head.
There are half as many active cell phones on the planet as there are people.
Korean teenagers can be called text messages' fans. They send over 200,000 text messages a year, that's about 60.1 texts per day.
Link to this page
If you found this article interesting, please help me promote it. To link to this page, copy this HTML and paste it onto your Web page.