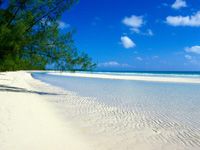 Bahamas is an archipelago nation of approximately 700 islands, of which 40 are populated. The islands cover an area of about 100,000 square miles.
The name of the state comes from the Spanish word 'bajamar', meaning 'shallow water' .
The Bahamas were a British colony until 1973 and are now an independent nation within the Commonwealth.
There is NO Legal Drinking Age in the Bahamas.
The Bahamas has a subtropical to tropical climate, and this is tempered significantly by the Gulf Stream.
Bahamas has one of the highest number of churches per capita in the world.
The population of The Bahamas is a little more than 300,000.
There are no rivers in The Bahamas but it is home to the world's third longest barrier
reef.
The most popular viewed sports are football and basketball–the favorite team of most Bahamians being the Miami Dolphins.
Link to this page
If you found this article interesting, please help me promote it. To link to this page, copy this HTML and paste it onto your Web page.