Interesting facts about Barbie Doll
October 12, 2009 | In: Funny Facts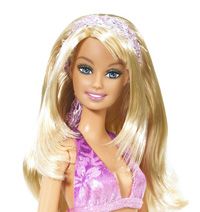 Barbie is named after the daughter of the original inventor, Barbara.
The first Barbie dolls were made in Japan. On the bottom of the right foot they are marked Made In Japan.
Barbie doll was introduced in Europe in 1961.
Every second, two Barbie dolls are sold somewhere in the world.
The first Black, and Hispanic Barbie dolls were introduced in 1980. Barbie has appeared in over 40 various nationalities.
The first Barbie doll sold for $3.
Barbie has had over 80 careers. The first was as a teenage fashion model.
Only stamp collecting is more popular in the U.S. than doll collecting.
Barbie has over 40 pets. Among them are cats, dogs, horses, a panda, a lion cub and a zebra.
Barbie is eleven and one half inches tall.
Link to this page
If you found this article interesting, please help me promote it. To link to this page, copy this HTML and paste it onto your Web page.