Interesting facts about Beethoven
June 4, 2009 | In: People facts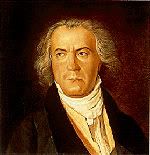 Beethoven's earliest music instructions were the piano lessons his father started to give him when he was four or five years old.
He wrote five piano concertos and one violin concerto. He composed one 'triple' concerto for piano, violin and cello and he started to write, but never completed an oboe concerto. Beethoven wrote nine symphonies.
Around 1796, Beethoven began to lose his hearing. What started as an annoying ringing in his ears worsened until he was almost totally deaf by 1816.
Beethoven's hearing gradually deteriorated beginning in his twenties, yet he continued to compose, and to conduct and perform, even after he was completely deaf.
In 1787, Neefe arranged for his seventeen-year-old protégé to visit Vienna where he played for and possibly took a few lessons with Wolfgang Amadeus Mozart.
There are over 200 films which quote this father of modern music's iconic compositions, discounting broadcast and filmed concerts
Unlike Mozart, who was buried in a common grave (as was the custom at the time), 20,000 Viennese citizens lined the streets at Beethoven's funeral on 29 March 1827. The funeral procession was one of the most impressive Vienna had.
Link to this page
If you found this article interesting, please help me promote it. To link to this page, copy this HTML and paste it onto your Web page.