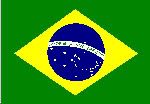 Brazil has been a Colony, an Empire, a Republic and has been under the Military rule . Today is a democratic nation.
Almost 200 million people live in Brazil. This makes it the fifth largest country in the world in terms of population.
Apparently, Brazil has the 2nd highest Christian population in the whole world!
Brazil has the biggest river in size and amount of water (the Amazon River); Also the second biggest in amount of water is in Brazil too. (not in size, that would be the Nile River, in Egypt) .
The most rich regions in Brazil are the Southeast areas. These areas are also more populated than any in Brazil. This area has more inhabitants than any country in South America.
Brazil has the 10th highest number of vehicle owners in the world.
Rio de Janeiro has a coastline of over 50 miles.
Brazilian Big Falls is the biggest in the world. The horseshoe-shaped falls are 269 feet (82 meters) high and 1.7 miles (2.7 km) wide.

Link to this page
If you found this article interesting, please help me promote it. To link to this page, copy this HTML and paste it onto your Web page.