Interesting Facts About Carrots
November 5, 2009 | In: Food facts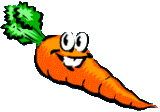 Carrots were cultivated for the first time in Afghanistan and then brought to the Mediterranean area more than 2000 years ago.
Originally carrots were found in a variety of colours including purple, white, black, yellow and red.
Hippocrates recommended women eat carrot seeds to prevent pregnancy. The first carrots were not grown for food; they were to be used as medicine.
The longest carrot on record in 2008 was 5.85 meters long!
Several countries have an annual event to celebrate the successful harvest of the carrot.
Carrots are more nutritious when cut by a knife!
No other vegetable or fruit contains as much carotene as carrots, which the body converts to vitamin A.
The largest carrot ever recorded weighed 18.985 pounds.
Link to this page
If you found this article interesting, please help me promote it. To link to this page, copy this HTML and paste it onto your Web page.