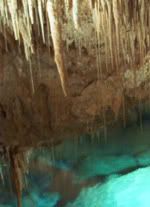 The greatest and longest cave system in the world is at Mammoth Cave Park in Kentucky, USA. It has about 591 kilometers (367 miles) of cave system.
Deepest cave is Voronya Cave in Abkhazia, Georgia with a depth of 2,191 meters. This is the difference in elevation from highest entrance to its lowest point.
The largest cave in the world is the Sarawak Chamber in Sarawak, Malaysia. Its floor area is 210,000sq. m.
The Stalactite and Stalagmite. The Stalactite of the cave is when part of cave's formation "drips" or "drops" downward. the Stalamite is the oppossite because it forms upward.
Your eyes can never adjust to total darkness. Animals that live in this type of environment must develop adaptations such as good hearing or long antennae that will help them survive.
Underwater cave divers recently discovered what may be the longest underground river in the world: a twisty waterway in Mexico's Yucatan Peninsula that runs for 95 miles (153 kilometers).
Link to this page
If you found this article interesting, please help me promote it. To link to this page, copy this HTML and paste it onto your Web page.