Interesting Facts About Caviar
September 21, 2009 | In: Food facts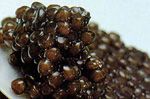 True caviar comes from the icy waters of the Caspian Sea where the environment is most conducive to producing the finest sturgeon.
The United States imports approximately sixty percent of the total world caviar supply.
Today with sturgeon facing extinction caviar will remain a delicacy and very expensive.
Caviar is full of proteins, vitamines, low in calories and thus is a complete meal by itself.
Caviar is also used for beauty treatments – facials and other.

Link to this page
If you found this article interesting, please help me promote it. To link to this page, copy this HTML and paste it onto your Web page.