Interesting facts about champagne
October 12, 2009 | In: Food facts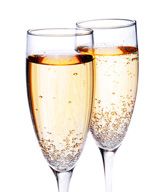 Dom Perignon a Benedictine monk at the Abbey of Hautvillers invented champagne.
Champagne is type of sparkling white wine that comes from the northern region of France called Champagne.
Marilyn Monroe once took a bath in 130 bottles of champagne.
"Good champagne" has multiple bubble trains rising in lines from the sides of a poured glass.
There are 49 million bubbles in a regular bottle of Champagne.
According to the Comite Interprofessionnel du Vin de Champagne (CIVC), France exports 150.9m bottles of champagne per year.
Most champagne are a mixture of Chardonnay and Pinot Noir grapes.
A raisin in a glass of champagne will continuously bounce up and down from the bottom of the glass.
Link to this page
If you found this article interesting, please help me promote it. To link to this page, copy this HTML and paste it onto your Web page.