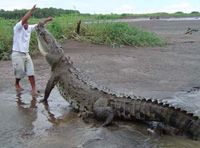 There are 23 living species of crocodile.
The sex of a crocodile is determined on the basis of its temperature. Males are produced at around 31.6 deg C and females, at slightly lower or higher temperature.
Crocodiles reach sexual maturity between the ages of 8 to 12 years. Females lay 20 to 90 eggs at a time. They are ready to hatch within 90 days.
The oldest known alligator (Alligator mississippiensis) was 66 years old when she died in Australia in 1978.
The largest crocodile species is saltwater crocodile.It can reach 7 m (23 ft) in length and 1 tonne in weight!
The jaws of a croc can exert 2,000 pounds of pressure per square inch.
If you see a croc on the riverbank with its mouth wide open, don't worry – this is not an aggressive gesture. It's just the crocodile's way of cooling off since they sweat through the mouth.
Newly born crocodiles are between 15 and 20 cm long.
A crocodile can hibernate between 5 to 6 months without the need of any food.
Link to this page
If you found this article interesting, please help me promote it. To link to this page, copy this HTML and paste it onto your Web page.