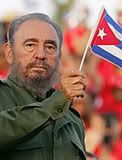 Cuba is the most populated country in the whole of the Caribbean.
Cuba comprises of more than 4,000 islands and cays.
When Christopher Columbus first stumbled upon Cuba in 1492 he thought he had landed in China. Cuba was claimed by Christopher Columbus as a Spanish colony in 1492.
Butterfly Jasmine is the official Flower of Cuba.
Only Russia, which is much larger, has more nickel reserves than Cuba.
Rumba, Salsa, Cha-cha-cha Music and Dance are the passions of Cubans.
Fidel Castro led Cuba for 49 years and was the world's third longest-serving head of state, after Britain's Queen Elizabeth and the King of Thailand.
Tourism is Cuba's main source of hard currency. The Government predicts seven million visitors a year by 2010.
Link to this page
If you found this article interesting, please help me promote it. To link to this page, copy this HTML and paste it onto your Web page.