interesting facts about dinosaurs
September 23, 2009 | In: History facts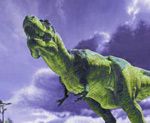 The first dinosaur skeleton that was complete enough to be reassembled was discovered in 1858 by William Parker Foulke, in Haddonfield, New Jersey.
Foulke heard that gigantic bones had been found in a marl pit, and he investigated. Many more bones were uncovered, and the shape of the animal began to emerge. It took twenty years from the initial discovery of the bones in 1838 until the animal was reconstructed.
The skeleton showed the world that dinosaurs were more than short lumbering lizards. The animal that is now called Hadrosaurus foulkii was a biped, able to stand on two legs and run. It was the beginning of a revolution in paleontology.
Blue whales are bigger than any dinosaur found so far.
The smallest dinosaurs, were about the size of a chicken.
The oldest dinosaur types are known from rocks in Argentina and Brazil and are about 230 million years old. (source)
Approximately 700 dinosaur species have been named.
The longest dinosaur was Seismosaurus, which measured over 40 metres.
The dinosaur with the longest name was Micropachycephalosaurus meaning "tiny thick-headed lizard". Its fossils have been found in China, and it was named in 1978 by the Chinese palaeontologist Dong. (source)
Galliminus could travel an estimated 35 miles per hour — faster than any Olympic sprinter. Coelophysis may have clocked in at 25 miles per hour, while Tyrannosaurus rex lumbered behind at only 15 miles per hour. (source)
One of the first dinosaurs was the Herrerasaurus. It lived about 230 million years ago. One of the last kinds was the Tyrannosaurus.
Link to this page
If you found this article interesting, please help me promote it. To link to this page, copy this HTML and paste it onto your Web page.