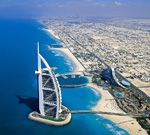 Dubai is the second largest member of the United Arab Emirates (UAE).
Dubai is the safest place to live in. Its a tax free country.
Approximately 80% of the residents in Dubai are foreigners.
It is the most important port and the commercial capital of UAE.
There are no street addresses in Dubai.
Dubai is the fastest growing city in the world.
The average annual precipitation in Dubai is only 13 centimeters.
In 1968, there were reportedly only 13 cars in the whole city of Dubai.
The official language is Arabic, Arabic and English are commonly used in business and commerce. Hindi and Urdu are also widely used.
Dubai is 1,510 square miles and is made up of two towns separated by Dubai Creek. To the north is Deira and to the south, Bur Dubai.
Link to this page
If you found this article interesting, please help me promote it. To link to this page, copy this HTML and paste it onto your Web page.