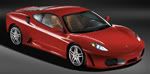 Enzo Ferrari is the founder of the Ferrari range of cars . Apart from the mobile, Ferrari also has perfumes, sunglasses and laptop computers under its brand name.
The horse icon was designed by a Turin based company Cerrato and was engraved by Incerti for Ferrari Scaglietti models.
Ferrari cars not only come in Red, the factory also offers a choice of 18 colours.
Best selling Ferrari of all is the 1986-89 328 GTS (6,068 made).
The world's fastest Ferrari, the F60, was debuted in April 2002.
The automatic transmission was introduced in 976 Ferrari 400GT.
Most expensive Ferrari was a 250GTO which changed hands for £7.2m ($12m).
Ferrari of Italy is the oldest and most successful team left in the Formula One championship.
Notable Ferrari drivers include Tazio Nuvolari, José Froilán González, Juan Manuel Fangio, Luigi Chinetti, Alberto Ascari, Wolfgang von Trips, Phil Hill, Olivier Gendebien, Mike Hawthorn, Peter Collins, Giancarlo Baghetti, John Surtees, Lorenzo Bandini, Ludovico Scarfiotti, Jacky Ickx, Mario Andretti, Clay Regazzoni, Niki Lauda, Carlos Reutemann, Jody Scheckter, Gilles Villeneuve, Didier Pironi, Patrick Tambay,René Arnoux,Michele Alboreto, Gerhard Berger, Nigel Mansell, Alain Prost, Jean Alesi, Eddie Irvine, Rubens Barrichello, Michael Schumacher, Kimi Räikkönen and Felipe Massa.
Link to this page
If you found this article interesting, please help me promote it. To link to this page, copy this HTML and paste it onto your Web page.