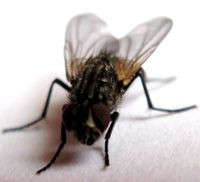 In all there are over 120,000 species of flies ranging in size from 1/20th of an inch to well over three inches.
Flies are attracted by movement more than color.
Fruit flies live for 8-10 days. In that time, females lay around 500 eggs, using rotting fruit or vegetables as their nest.
The easiest way to keep flies out of your home is to keep things clean.
Many flies feed on dead animals, recycling them back to the Earth.
A fly's wings beat 200 times per second.
Black Flies are known to travel up to 10 miles from their breeding sites in search of a bloodmeal.
Flies taste with their feet.
A housefly can transport germs as far as 15 miles away from the original source of contamination.
House flies get their name from being the most common fly found around homes. Adult house flies can grow to one-quarter of an inch long and usually live between 15 and 25 days.
Link to this page
If you found this article interesting, please help me promote it. To link to this page, copy this HTML and paste it onto your Web page.