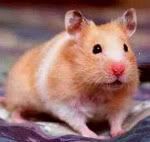 Hamsters are colour blind.
Hamsters can only see up to six inches in front of them.
There are 4 basic types of hamsters: Syrian, Russian Dwarf, Chinese and Roborovski hamsters.
Hamsters can be taught how to come by name.
Domestication of the hamster began in 1930 when a zoologist
found one mother and twelve young hamsters in the Syrian Desert .
Hamsters are able to carry up to half their body weight in their pouches.
Hamsters have very short life spans. Three or four years is about the maximum for hamsters, but most of them expire at about two years of age.
To keep a hamster satisfied and healthy, it needs to get exercize. Hamsters should be let out of they're cage to exercise for at least 30 minutes a day.
Hamsters are omnivorous (they eat insects), however most hamster owners prefer keep them vegetarian. In their natural environment, hamsters will eat insects such as grasshoppers.
Hamsters are normally allergic to Cedar.
Hamsters collect food in their cheek pouches.
The common hamster can pack so much food into its cheeks that they extend behind its shoulder blades! Hamsters are notorious for hoarding food, and one hamster's burrow was found to contain more than 200 pounds of seeds, beans, and vegetables.
Hamsters use their cheeks in another way, too: they puff them up with air to help them float when swimming!
Link to this page
If you found this article interesting, please help me promote it. To link to this page, copy this HTML and paste it onto your Web page.