Interesting facts about ice cream
July 27, 2009 | In: Food facts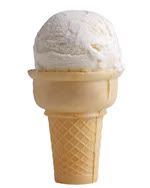 An ice-cream-like food was first eaten in China in 618-97AD. King Tang of Shang, had 94 ice men who helped to make a dish of buffalo milk, flour and camphor.
In USA, the average amount of ice cream eaten is an amazing 21 litres per person per year .
Vanilla is still the most popular ice cream flavour by far, despite the creation of many new flavours – sweet and savoury – over the years.
The earliest known ice houses can be traced to 4000 years ago in Mesopotamia. History also shows that the pharaohs of Egypt used to have ice shipped to them, and that the Roman Emperor Nero in the 4th century used to have servants run to the mountains to collect ice for his fruit toppings.
Ice cream came in second to cookies as the countries favorite dessert.
It takes 12 pounds of whole milk to make one gallon of ice cream.
The ice cream cone is a Italian invention.
In 2004, The Japanese Ice Cream Association promoted "raw horse flesh" ice cream in hopes that it would boost the popularity of ice cream!
Link to this page
If you found this article interesting, please help me promote it. To link to this page, copy this HTML and paste it onto your Web page.