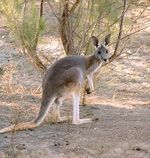 There are over 40 different types (species) of Kangaroo.
The adult male Kangaroo is called buck, boomer or jack. Adult females are called doe, flyer or jill.
Kangaroos are found in Australia, Tasmania, and New Guinea.
A kangaroo can hop at up to 60kmh. It can also jump over obstacles up to 3m (10ft) high.
Kangaroos are social animals that live in groups or "mobs" of at least two or three individuals and up to 100 kangaroos.
There are more kangaroos in Australia than humans.
Kangaroos have a lifespan of up to 18 years in the wild.
Kangaroos fight with each other by boxing with their front paws, but defend themselves with powerful kicks from their hind legs.
Kangaroos are able to survive for months without drinking.
The kangaroo is a national symbol for Australia. It's picture is on some Australian coins and is used by the Australia airline Qantas.
Newborn baby kangaroos have no eyes or ears! The tiny babies, called joeys, are bean-shaped pink critters whose only purpose in life is to climb up the mother's fur, into the pouch.
Once there, a newborn joey attaches to a milk gland and continues growing for about six months, until it's big enough to leave the pouch. At that point, it has developed enough (eyes and ears included) to face the real world.
Mother kangaroos are equally protective of all joeys once they emerge. If danger approaches, each joey simply jumps into the nearest mom's pouch for safety.
Link to this page
If you found this article interesting, please help me promote it. To link to this page, copy this HTML and paste it onto your Web page.