Interesting facts about Mark Twain
November 11, 2009 | In: People facts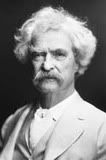 His real name is Samuel Langhorne Clemens.Twain adopted his pen name in 1863 in Nevada.
While he was a teenager, Mark Twain worked as an amateur printer.
Mark Twain published more than 30 books throughout his career.
Twain was a steamboat pilot apprentice on the Mississippi River and eventually earned his pilot's license.
Twain was very interested in parapsychology.
He often made bad investments, which resulted in serious financial problems.
Twain served during the American Civil War.
Mark Twain is famous for his novels Adventures of Huckleberry Finn and The Adventures of Tom Sawyer.
William Faulkner called him "the father of American literature" .
Twain had four children: Jean, Susy, Langdon and Clara Clemens.
Link to this page
If you found this article interesting, please help me promote it. To link to this page, copy this HTML and paste it onto your Web page.