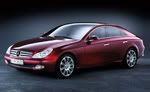 The first Mercedes-Benz brand name vehicles were produced in 1926, following the merger of Karl Benz's and Gottlieb Daimler's companies into the Daimler-Benz company.
The Mercedes-Benz motto is "Das Beste oder Nichts" meaning "the best or nothing".
Mercedes have won 35 Grand Prix titles as constructor. The Mercedes car is named after the daughter of its first buyer, Emil Jellinek.
South Africa is the sole producer of the Mercedes Benz, C Class, right hand drive vehicles
The seats in the Mercedes-Benz cars were designed and shaped in consultation .with leading orthopedic physicians. These contoured, firmly upholstered seats envelop you-supporting vital kidney, back and knee-joint areas.
A typical restoration (for example, of a 600 Series sedan) might take one to 1½ years and cost up to €750,000.
Link to this page
If you found this article interesting, please help me promote it. To link to this page, copy this HTML and paste it onto your Web page.