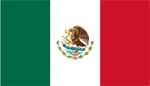 Mexico City is the largest city in the world. It was built on the site of the ancient city of Tenochtitlán.
Mexico is the fourteenth largest country in the world,and the fifth largest in the Americas. It is also the most populated Spanish speaking country in the entire world.
Tequila is the national drink.
Mexico introduced chocolate, corn, and chilies to the world.
Mexico is the home of one of the oldest living trees in the world.
Mexico is second only to Brazil in the number of Catholic citizens.
Mexicans comprise the largest group of legal immigrants in the United States.
Mexico hosted the Summer Olympics in 1968 and the FIFA World Cup soccer championship in 1970 and 1986.
Mexico is home to many volcanoes, including two that can be seen from the capitol city.
There are over 200,000 different species of plants and animals in Mexico.
There are about 236 television stations in Mexico.
Link to this page
If you found this article interesting, please help me promote it. To link to this page, copy this HTML and paste it onto your Web page.