interesting facts about newspapers
October 16, 2009 | In: History facts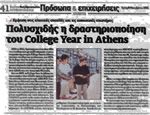 In China, early government-produced news sheets, called tipao, circulated among court officials during the late Han dynasty (second and third centuries AD).
The first modern newspapers were products of western European countries like Germany (publishing Relation in 1605), France (Gazette in 1631), Belgium (Nieuwe Tijdingen in 1616) and England (the London Gazette, founded in 1665.
According to the Guinness Book of Records, the daily circulation of the Soviet newspaper Trud exceeded 21,500,000 in 1990, while the Soviet weekly Argumenty i Fakty boasted the circulation of 33,500,000 in 1991.
In India, The Times of India is the largest English newspaper, with 2.14 million copies daily.
Link to this page
If you found this article interesting, please help me promote it. To link to this page, copy this HTML and paste it onto your Web page.