Interesting facts about Northern Lights
July 27, 2010 | In: Geography Facts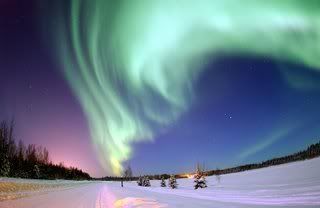 The mysterious and beautiful lights (auroras) usually seen by those living near the magnetic north pole is caused by the intense activity of the Sun!
The Sun emits a constant stream of charged particles, known as the solar wind. As these particles race towards earth, most of them are turned aside by the Earth's magnetic field and go around the planet. However, some particles do leak into the Earth's upper atmosphere, where they collide with atoms of air to produce the colorful displays known as the "Northern Lights".
During periods of increased activity on the surface of the Sun, the solar wind becomes stronger, causing the Northern Lights to appear at lower latitudes. During the 1980s, people living as far south as the US-Mexico border reported seeing the lights.
This spectacular phenomenon has been the source of many legends and superstitions. Eskimos once believed that the lights were the spirits of seals, whales, and caribou, and the Algonquian Indians of Canada believed that the lights were reflections from a huge fire built by the "Great Spirit". This legendary awe is understandable – some displays make use of as much power as the entire United States uses in a day!
Link to this page
If you found this article interesting, please help me promote it. To link to this page, copy this HTML and paste it onto your Web page.