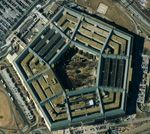 The Pentagon originally received its name, from the unusual, pentagon shape of the building.
The Pentagon building is one of the largest office buildings in the world, covering 6,6 million sq ft, in floor size, and 17.5 miles of corridors.
The Pentagon, in Arlington, Virginia, has twice as many bathrooms as is necessary. When it was built in the 1940s, the state of Virginia still had segregation laws requiring separate toilet facilities for blacks and whites.
There are only 35 countries (out of 210) in the world that consume more oil per day than the Pentagon.
Approximately 23,000 employees, both military and civilian, contribute to the planning and execution of the defense of USA.
The Pentagon is built with 5 rings or bands of rooms that are named with letters. The 10 intersecting corridors are named with numbers.

Link to this page
If you found this article interesting, please help me promote it. To link to this page, copy this HTML and paste it onto your Web page.