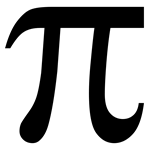 The constant is called "?" because "?" is the first letter of the Greek words ?????????? (periphery) and ?????????? (perimeter), probably referring to its use in the formula to find the circumference, or perimeter, of a circle.
In 1737, Euler used the symbol for pi to be equal to the ratio of the circumference to the diameter in a circle.
The value of pi with first 100 decimal places is: 3.1415926535897932384626433832795028841971693993751058209749445 923078164062862089986280348253421170679 .
he old memory champion was Hideaki Tomoyori, born Sep. 30, 1932. In Yokohama, Japan, Hideaki recited pi from memoryto 40,000 places in 17 hrs. 21 min. including breaks totaling 4 hrs. 15min. on 9-10 of March in 1987 at the Tsukuba University Club House.
Satan doesn't appear in Pi to quick, the first time 666 appears is at position 2440.
Pi has no zeros in the first 31 digits.
No-one and no machine has been able to find out the exact value of Pi; people have been trying to pin an exact value to Pi for thousands of years.
??????????
Link to this page
If you found this article interesting, please help me promote it. To link to this page, copy this HTML and paste it onto your Web page.