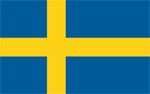 Sweden is the 3rd largest EU country in land area, after France and Spain.
The official name of Sweden is 'The Kingdom of Sweden'. The official language of the country is Swedish.
Swedish men are very tall.
The strongest girl in the world is Swedish!
As of 2004 you can pay your Swedish taxes by sending an SMS message from your cell phone.
Sweden remained neutral throughout World War I and World War II.
Sweden has a population of over 9.6 million, 85 percent of which live in urban cities.
During Easter in Sweden, which is a well-known holiday here, children dress up and go from home to home asking for candy, similar to Halloween!
Stockholm is surrounded by water and every year a water festival are held in August.
Link to this page
If you found this article interesting, please help me promote it. To link to this page, copy this HTML and paste it onto your Web page.