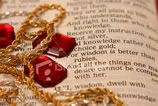 The 5 Poetical Books are: Job, Psalms, Proverbs, Ecclesiastes, and Song of Solomon.
The number 40 is used many times in the Bible. It often means God is about to usher in a new event or era. For instances, rain during the flood lasted 40 days, spies explored Canaan for 40 days, Jonah warned Nineveh for 40 days, and Jesus fasted in the wilderness for 40 days.
The 17 Prophetic Books are: Isaiah, Jeremiah, Lamentations, Ezekiel, Daniel, Hosea, Joel, Amos, Obadiah, Jonah, Micah, Nahum, Habakkuk, Zephaniah, Haggai, Zechariah, and Malachi.
The Bible has been translated into over 2000 languages.
The longest book in the Bible is Psalms.
The Bible was written over a 1500 year span (from 1400 B.C to A.D. 100).
The Bible contains many literary genres – poetry, myth, wisdom literature, prophecy, letters, narratives.
The Bible contains about 773, 692 words! It would take you approximately 70 hours to read the whole Bible out loud.
The oldest person in the Bible was Methuselah. He died when he was 969 years old.
The Bible was the first book to be printed, in 1454.
Link to this page
If you found this article interesting, please help me promote it. To link to this page, copy this HTML and paste it onto your Web page.