interesting facts about the Statue of Liberty
September 14, 2009 | In: History facts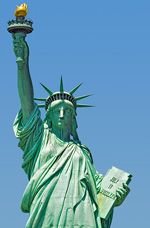 The Statue of Liberty was a gift of friendship resulting from the diplomatic relationship between the United States and France.
Total weight of the Statue of Liberty is 225 tons (or 450,000 pounds) .The height of the Statue of Liberty is 152 feet or 46 cm high.
Statue of Liberty was repaired and restored in the mid 1980s, by a combined French and American work force, for the centennial celebration held in July 1986.
The statue is made of copper and is now green in color because of oxidation (a chemical reaction between metal and water) from evaporation of the seawater surrounding it.
The tablet held in her left hand measures 23? 7? tall and 13? 7? wide and is inscribed with the date JULY IV MDCCLXXVI (July 4, 1776) – The day America declared their independence.
Link to this page
If you found this article interesting, please help me promote it. To link to this page, copy this HTML and paste it onto your Web page.