interesting facts about Thomas Edison
September 29, 2009 | In: People facts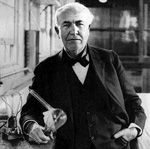 Thomas Edison was partially deaf. He developed this problem in his childhood days.
He built his own science laboratory at the age of 10. This was built in the basement of his home.
Edison's First Patented Invention was a Flop.
In 1910 Invented the Edison battery, which used an alkaline electrolyte.
Edison was considered one of the most prolific inventors of his time, holding a record 1,093 patents in his name.
Besides the light bulb, he invented these things to go along with it:the parallel circuit, a durable light bulb,
an improved dynamo, the underground conductor network, the devices for maintaining constant voltage,
safety fuses and insulating materials, and light sockets with on-off switches.
Edison had five dots tattooed on his left forearm. No one knew what the dots meant.
The inventor of the electric light was not Thomas Edison. In 1802, 77 years before Edison perfected a filament for the incandescent lamp, Davy caused a platinum wire to glow by passing an electric current through it.
Link to this page
If you found this article interesting, please help me promote it. To link to this page, copy this HTML and paste it onto your Web page.