Interesting facts about Wrestling
January 7, 2010 | In: Sport Facts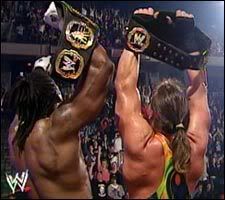 Wrestling is one of the oldest of martial arts with references to it as early as the Iliad that recounts the Trojan War in the 13th or 12th century BC.
Shuai Jiao, a wrestling style originating in China, has a reported history of over 4,000 years.
In Egypt, wrestling has been evidenced by documentation on tombs (circa 2300 BC) and Egyptian artwork (2000-1085 BC).
Women's Wrestling was included in the Olympic Games 2004 competition program.
Mr. Kennedy named his dog, Austin after his favorite wrestler, Stone Cold Steve Austin.
Former WWF superstar, Tito Santana owns a hair salon in Roxbury, New Jersey.
Former WWF wrestler Chyna and current WWE wrestler Torrie Wilson both suffered from bulimia but are recovered.
Kurt Angle's wife is a former stripper .
A wrestling game in the 1912 Olympic lasted 11 hours, and was fought by two middle weight wrestlers, Martin Klein from Estonia and Alfred Asikainen from Finland.
Link to this page
If you found this article interesting, please help me promote it. To link to this page, copy this HTML and paste it onto your Web page.