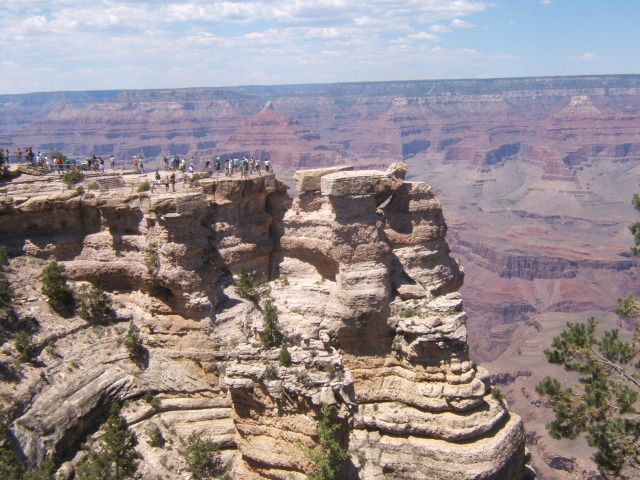 The Grand Canyon is located in Arizona and stretches to Colorado. The canyon was created by the Colorado River over a 5.4 million year period.
The Grand Canyon's oldest sedimentary rocks date back almost 2 billion years. Lived in for hundreds of years by various Native American tribes, the Grand Canyon has over 500 archaeological sites.
The Grand Canyon is 277 miles long, up to 18 miles wide and 5000 feet deep.
To ride the stretch of the Colorado River running through the Canyon, is a journey of 277 miles. The distance between canyon walls bordering the river ranges from 18 miles, to less than one half mile. At times, the canyon reaches depths of 5,700 feet. Reaching the bottom requires a hike down a steep, narrow, and twisting trail. All of this within a park that really covers only 673,203 acres; not so large compared to other, less deep, parks.
The walls of the Grand Canyon expose millions of years of history, and the Colorado River has probably been running through this area for almost 10 million years.
Unlike peaks and valleys almost anywhere else, the Grand Canyon shows a brilliant palette of grays, browns, greens, ochres, deep reds, oranges, and golds.
In the Grand Canyon lives 75 different species of mammal, 50 species of reptiles, 25 species of fish, and 300 species of bird.
There are approximately 1,737 known species of vascular plants, 167 species of fungi, 64 species of moss and 195 species of lichen found in Grand Canyon National Park.
Prehistoric Pueblo Peoples are living in the canyon (900 years ago) .
Grand Canyon established as a forest preserve in 1892.
Scattered rocks located at the bottom of the canyon date back as far as 2 billion years.
Grand Canyon National Park is one of the world's premier natural attractions, attracting about five million visitors per year.
Link to this page
If you found this article interesting, please help me promote it. To link to this page, copy this HTML and paste it onto your Web page.