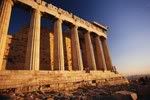 The official name of Greece is the Hellenic Republic.Its civilization started about 2,500 years ago.
There are about 1400 islands in Greece. However, only a few hundred of them are inhabited.Crete is the largest island.
The maritime fleet of Greece is the largest in the world today.
80% of Greece is mountainous and 50% is covered by forests.
Greek people love to dance, so there are 63 different folk dances in Greece.
Education is free from kindergarten to the "University level".
Greek Museums have ancients artefacts that are almost 4000 years.
Ancient Olympic Athletes Competed in the Nude.
Ancient Greece is very unique in it's own way like it has no river.
Link to this page
If you found this article interesting, please help me promote it. To link to this page, copy this HTML and paste it onto your Web page.