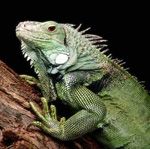 Iguanas are about ten inches long when hatched.
Iguanas are also among the most popular reptile pets in the United States.
The name of the family that iguanas are in is iguanidae.
Iguanas are herbivores.
Iguanas can be as small as 14 inches and as large as 7 feet.
Iguanas weigh up to 18 pounds.
In their first 2 years of life they can grow to up to 6 feet long and be 100 times heavier then they were at birth.
Iguanas are also cold-blooded, which means they do not produce their own body heat.
Your pet iguana can be trained to do many different things. Some people have toilet-trained them.
Link to this page
If you found this article interesting, please help me promote it. To link to this page, copy this HTML and paste it onto your Web page.