Interesting info about neurons function
September 27, 2010 | In: Medical facts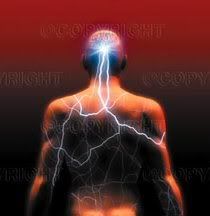 The basic function of the nervous system is to transmit messages from one place to another. The nerve cells which do this job are called neurons. Neurons can vary widely in their shape, but they all have several basic things in common. Like all cells, neurons have a cell body. These cell bodies have many short branches coming off of them called dendrites. Dendrites allow communication with nearby neurons. Each neuron also has a single long branch called an axon. Axons permit messages to be carried to distant neurons in other parts of the body.
There are three basic types of neurons. These are sensory neurons, motoneurons, and interneurons. Sensory neurons carry signals from their sense receptors in the periphery back to the central nervous system (CNS). Motoneurons carry signals from the CNS to the muscles and glands within the body. Interneurons do the communicating within the CNS itself. For each sensory neuron, there are about 10 motoneurons and 100 interneurons in the body. Apparently, many more neurons are required to decide what to do in response to incoming signals than are required to get those signals.
Neurons actually function by conducting electrical signals down the length of their axons. The axons are wrapped with myelin cells which serve just like the insulating material that surrounds regular copper wires. These electrical signals travel down neurons at speeds over a hundred miles per hour. This seems quite fast unless you compare it to real copper wires which conduct signals at the speed of light (186,000 miles per second).
Link to this page
If you found this article interesting, please help me promote it. To link to this page, copy this HTML and paste it onto your Web page.