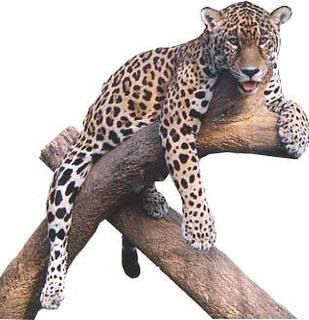 Jaguars are the largest of South America's big cats.
The jaguar's name means "a beast that kills its prey with a single bound."
Jaguars are excellent swimmers.
Jaguars are 5 to 6 feet in length and weigh between 100 to 250 pounds.
The average lifespan of a jaguar is 12 to 15 years in the wild and between 20 to 25 years in captivity.
The tail can reach up to 30 inches.
Compared to a leopard, the jaguar is stocky and more powerfully built.
Jaguars can bite through the shell of turtles.
Jaguars are a "near-threatened" species, which means simply that their numbers are reducing
Link to this page
If you found this article interesting, please help me promote it. To link to this page, copy this HTML and paste it onto your Web page.