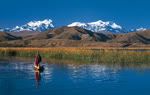 There are 41 million acres of lakes and reservoirs in the U.S.There are at least 3 million lakes in Canada.
The Great Lakes shoreline is equal to almost 44 percent of the circumference of the earth, and Michigan's Great Lakes coast totals 3,288 mi/5,294 km, more coastline than any state but Alaska.
The deepest lake in the world is Lake Baikal in Siberia, Russia. It is a natural lake that is 5,712 feet (1,741 meters) deep. That's more than one mile straight down!
The Caspian Sea is the largest enclosed body of water on Earth by area, variously classed as the world's largest lake or a full-fledged sea. It has a surface area of 371,000 square kilometers (143,244 sq mi) and a volume of 78,200 cubic kilometers (18,761 cu mi).
The dead Sea,Israel is the lowest point on Earth(320 meters under the sea level) and the saltest lake on the Earth.
Lake Titicaca is a lake located on the border of Peru and Bolivia. It sits 3,812 m (12,500 ft) above sea level, making it one of the highest commercially navigable lakes in the world.
Link to this page
If you found this article interesting, please help me promote it. To link to this page, copy this HTML and paste it onto your Web page.