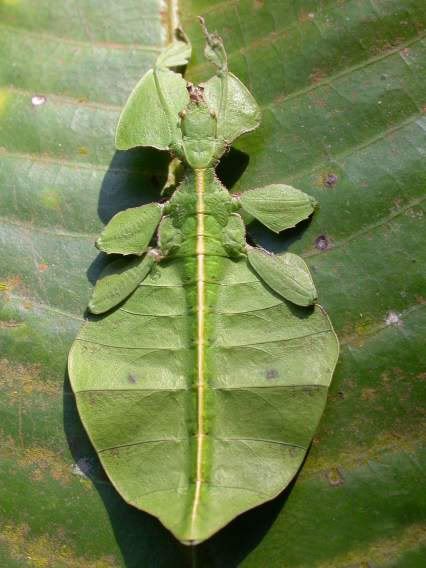 A "leaf with legs" is an insect that looks like a leaf. This peculiar insect has broad ribbed wings, which fold over its back in the shape of a leaf, and leaflike growths on the joints of each leg. When a bright green leaf insect stands on a bright green leaf, the creature is almost impossible to see. Some leaf insects are brownish and blend with leaves of a similar color.
The camouflage of a young leaf insect is as amazing to see as the camouflage of its parents. This is because a wingless, reddish and glossy young leaf insect is nearly impossible to distinguish from the buds at the ends of branches.
Leaf insects are related to several American species of walking sticks. Both insect species generally cannot fly and move slowly as they walk along on leaves or branches; thus, a predator's eyes can hardly distinguish them from the surroundings.
If you want to see a living "walking leaf," you'll have to look very carefully in the forests of Africa, Sri Lanka or Ceylon, northern Australia, or many islands of the South Pacific.
Link to this page
If you found this article interesting, please help me promote it. To link to this page, copy this HTML and paste it onto your Web page.