Interesting Oyster facts
September 18, 2009 | In: Food facts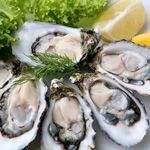 While oysters have separate sexes, they may change sex one or more times during their life span.
Oysters have a three chambered heart, colourless blood and a pair of kidneys.
The female oyster can release well in excess of 1 million eggs over the spawning season.
Oysters have been thought to be an aphrodisiac.
Man has eaten Oysters for some 6000 years that we know of.
Although it is possible for food oysters to produce pearls, they should not be confused with actual pearl oysters, which are from a different family of bivalves.
An adult oyster can filter 60 gallons of seawater in one day.
Oysters breathe much like fish, using both gills and mantle.
An oyster produces a pearl when foreign material becomes trapped inside the shell. The oyster responds to the irritation by producing nacre, a combination of calcium and protein. The nacre coats the foreign material and over time produces a pearl.
Link to this page
If you found this article interesting, please help me promote it. To link to this page, copy this HTML and paste it onto your Web page.