interesting pollution facts
September 21, 2009 | In: Nature Facts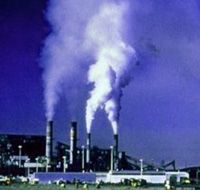 Scientists studying ice cores from Greenland have discovered a 2000-year-old layer of lead. This layer was produced by air pollution from extensive mining activities in ancient Spain.
The Spanish lead mines were operated by the Romans and Carthaginians, who were not aware of the dangers posed by lead. The mining, combined with the widespread use of lead in pipes, bowls, and utensils, is believed to have caused significant lead poisoning among the ancient Romans. Some speculate that it may even have contributed to the downfall of the Roman Empire.
Homeowners use up to 10 times more toxic chemicals per acre than farmers.
One ton of carbon dioxide that is released in the air can be prevented by replacing every 75 watt light bulbs with energy efficient bulbs.
The human population of the world is expected to be nearly tripled by the year 2100.
The World Bank reported in 2002 that pollution causes 2.42 billion dollars worth of damage to the Egyptian environment annually.
40% of America's rivers are too polluted for fishing, swimming, or aquatic life.
Greece has the cleanest coastal waters, followed by Spain and Germany. Lithuania and Estonia have the dirtiest coastal waters.
More than 100 active pesticide ingredients are suspected of causing cancer, birth defects, and gene mutation.
There are about 500 million cars on the planet and by 2030 it is expected to double to 1 billion cars .
Link to this page
If you found this article interesting, please help me promote it. To link to this page, copy this HTML and paste it onto your Web page.