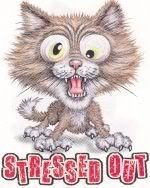 Laughing lowers levels of stress hormones and strengthens the immune system.
75% of the general population experiences at least "some stress" every two weeks.
An estimated 1 million workers are absent on an average workday because of stress related complaints.
Some of the physical symptoms associated with stress and anxiety syndrome include: depression, hair loss, chest pain, difficulty breathing, overeating and weight gain, heart disease, high blood pressure, elevated cholesterol.
Up to 5 million people in the UK are 'very' or 'extremely' stressed through work.
Working mothers, in particular, are among the people most likely to experience stress, particularly when they do not have a lot of support from others
Link to this page
If you found this article interesting, please help me promote it. To link to this page, copy this HTML and paste it onto your Web page.