interesting urine facts
October 20, 2009 | In: Weird facts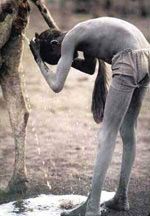 There are 45.2% of people that pee in the shower. There are 44.9% of people who pee in the ocean and there are 28.1% of people who pee in the pool.
U.S. Navy Seals sometimes urinate in their pants during cold water training exercises, in order to stay warm.
Eating Asparagus will make your pee smell funny – stronger.
Wolves, bears, apes and other mammals use urine to claim territory, communicate eligibilty for mating, body size and other individual characteristics.
In general, the average adult bladder can hold about 16 ounces or 2 cups of liquid at maximum.
A medicine called Propofol can turn urine green.
The yellow color in urine is due to chemicals called urobilins. These are the breakdown products of the bile pigment bilirubin.
The kidneys make urine by filtering out unwanted water, waste products, chemicals, sodium and potassium ions from the blood through a set of filtering systems called nephrons.
Link to this page
If you found this article interesting, please help me promote it. To link to this page, copy this HTML and paste it onto your Web page.