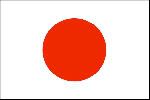 Japan is 70% mountains. Japan is made up of over 6000 islands.
Japan has about 1,500 earthquakes each year.
Coffee is very popular and Japan imports approximately 85% of Jamaica's annual coffee production.
Life expectancy in Japan is one of the highest in the world. On an average the Japanese lives 4 years longer than the American does.
Japan is the largest automobile producer in the world.
Japan's national anthem, Kimi Ga Yo (???), is the oldest in the world.
About a quarter of the electricity needs of Japan are supplied by nuclear power.
Japan is the only country in the world ever attacked by atomic weapon.
In Japan they drive on the left side of the road.
Link to this page
If you found this article interesting, please help me promote it. To link to this page, copy this HTML and paste it onto your Web page.