Michael Jackson interesting facts
July 17, 2009 | In: People facts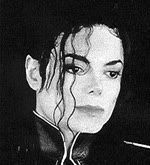 He gave his first public performance at the age of 5 singing Climb Every Mountain.
As a teenager, he had terrible acne.
Michael Jackson released his first single in October 1969 at 11 years old with The Jackson 5.
Jackson's Billie Jean was the first video by a black artist to air on MTV.
In 1994, Jackson married Elvis Presley's only child, Lisa Marie, but the marriage ended in divorce in 1996.
He won 13 Grammy Awards .
In "The Wiz" (1978) Jackson took on the role of the Scarecrow in a re-imagining of "The Wizard of Oz.
Jackson paid $47 million for the publishing rights to the Beatles back catalogue in 1985 and sold a share of to Sony in 1995 for $95 million.
Michael once said in an interview that he made all his money from the cows at Neverland Ranch. You know, because having the best-selling album of all time isn't paying the bills.
Michael's Neverland Ranch was host to a private zoo and an amusement park. It was open for various children's charity events.
Link to this page
If you found this article interesting, please help me promote it. To link to this page, copy this HTML and paste it onto your Web page.