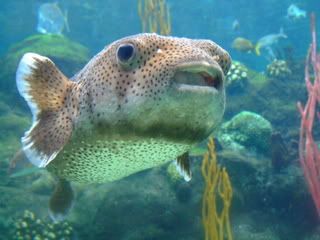 Most fish think twice before making a meal of a porcupine fish. By swallowing large amounts of water or air very quickly, a frightened porcupine fish can puff its body up to several times its normal size. This instinctive response to danger makes the porcupine fish too big for most predators to consider swallowing. And with its pointy spines sticking straight out, a porcupine fish would cause any predator a good case of indigestion. If that's not enough of a defense, the porcupine fish's flesh is poisonous to most animals, including humans.
When a porcupine fish is not frightened, its body is long and oblong-shaped and its pointy spines rest along its back. Most commonly found in coral reefs, the porcupine fish spends its days swimming along the sandy bottom looking for small crabs and shrimp to eat. Because its body is covered with thick skin and spines, the porcupine fish can only swim very slowly using its tiny feather-like pectoral fins.
Link to this page
If you found this article interesting, please help me promote it. To link to this page, copy this HTML and paste it onto your Web page.