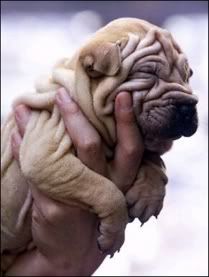 Wrinkled skin of Shar Pei dog looks this way because in the past, this species was used to fight. His large amount of wrinkled skin of Shar Pei's was harder to be bitten by the opponent and less painful for him.
Shar Pei dogs were so effective in fighting that, in the moment whenthew have spread in Europe (1981) have been called "Chinese fighting dogs" .
In fact this attribute is inappropriate for them and contradicts a long tradition.
The name derives from two Chinese ideograms: shu, which means "sand", and Pei, meaning "skin". Placed end to end are "sand skin".
Link to this page
If you found this article interesting, please help me promote it. To link to this page, copy this HTML and paste it onto your Web page.